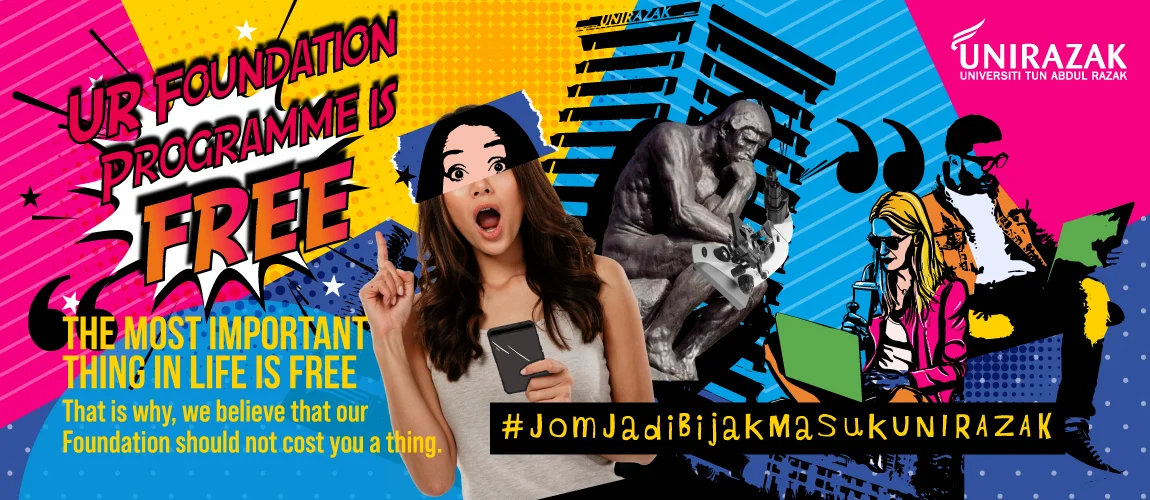 Universiti Tun Abdul Razak (UNIRAZAK)
Malaysia
Ready to apply? Start here.
Form here
Statistics

| | | |
| --- | --- | --- |
| | 50 | Undergraduate programs |
| | 25 | Postgraduate programs |
Overview
Statistics

| | |
| --- | --- |
| Institution type | Private |
| Year established | Data not available |
| Campus setting | Urban |
| Student population | Medium (1,001 to 10,000) |
| foreign students | 10% |
| Nationalities | Data not available |
About Universiti Tun Abdul Razak (UNIRAZAK)
Universiti Tun Abdul Razak (UNIRAZAK) was established on 18 December 1997 and is one of the first private universities in Malaysia. UNIRAZAK is wholly-owned by Yayasan Pelaburan Bumiputra, which also owns Permodalan Nasional Berhad (PNB). Since 2012, UNIRAZAK has been under the leadership and guidance of our esteemed Chancellor, YABhg. Tun Ahmad Sarji bin Abdul Hamid.
UNIRAZAK is known for its coveted degrees which were jointly-developed in partnership with globally renowned professional bodies. This unique approach enabled its students to obtain dual publications: a degree and accreditation by professional bodies relevant to their chosen fields be they in accounting, management, taxation and Islamic banking & finance. To date, UNIRAZAK's programme partners include CPA Australia, Chartered Management Institute of United Kingdom (CMI), Malaysian Association of Tax Accountants (MATA), Chartered Tax Institute of Malaysia (CTIM), Islamic Banking and Finance Institute Malaysia (IBFIM), Malaysian Institute of Insurance (MII) and others. Today, UNIRAZAK is firmly established as 'Kuala Lumpur's Premier School of Business, Government & Education'.
UNIRAZAK meets the highest standards for tertiary education and has been awarded MSC-status and SIRIM certification ISO 9001:2000. In 2017, UNIRAZAK achieved 4-star ratings for MYRA and was bestowed the Ministry of Education's Grand Award for 'Entrepreneurial Private University of the Year' in 2015. Recently, UNIRAZAK has been accorded by the Ministry of Higher Education Malaysia for 2018/19 with a 5-Star SETARA rating.
Admissions
Intakes
Admissions Statistics

| | |
| --- | --- |
| IELTS | Data not available |
| TOEFL | Data not available |
For admission requirements and intakes for each individual course/programme please refer to course details.
Tuition and application fees
Estimated tuition fees as reported by the institution.
Tuition and Application Statistics

| | |
| --- | --- |
| Application fee (local students) | Data not available |
| Application fee (foreign students) | Data not available |
| Student visa fee (foreign students) | Data not available |
Living cost
Data not available
Average living cost in Malaysia
The amount is indicated taking into account the average cost of food, accommodation, etc in Malaysia for 2023
Costs Statistics

| | |
| --- | --- |
| Food | Data not available |
| Accommodation | Data not available |
| Others | Data not available |
Accommodation
UNIRAZAK provides a safe and affordable accommodation for students. Our hostel is located at, Residensi Teratai, Danau Kota, Kuala Lumpur. These basic hostels can be considered comfortable places to live in. These hostels are surrounded by various food stations, Shopping Mall, facilities and public transport. Warden are placed in hostel to ensure students' welfare and needs are taken care of. There are 24 hours surveillance in order to maintain a safe environment for all the students.
Building Facilities:
Convenience shop

Multipurpose hall

Surau

CCTV

24-hour security service

Card access

Self-service laundry

Machines

Swimming

Gym
Campus
UNIRAZAK has world-class facilities installed at the city campus in Kuala Lumpur. It is built with the aim to nuture independent and creative learning. Also, the entire campus is equipped with Wi-Fi access which allows students to take full benefit of the university's digital learning methods.
Other facilities include:
student lounge
spacious lecture theatres
discussion rooms
recreational area
computer laboratories
UNIRAZAK's main City Campus is strategically located in the heart of Kuala Lumpur. It is located next to a movie theatre, vibrant shopping hub, and many food places. The strategic location also ensures that our students have easy access to various public transportation systems to and from the city campus.
Student population
Medium (1,001 to 10,000)
Total population
Student Statistics

| | |
| --- | --- |
| Undergraduate students | Data not available |
| Postgraduate students | Data not available |
| foreign students | Data not available |