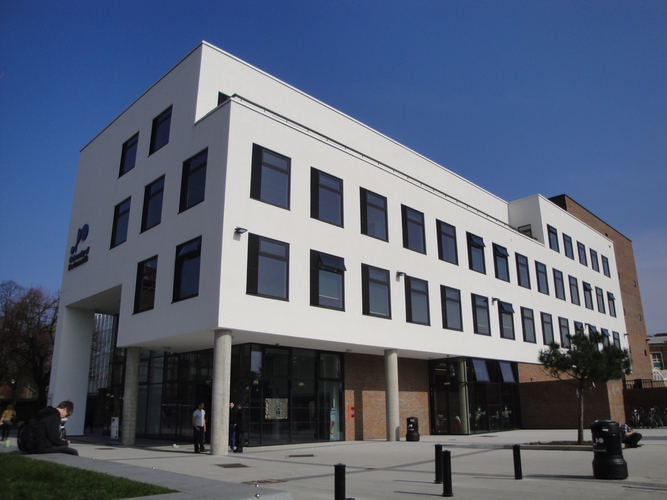 University of Portsmouth
Portsmouth, England, United Kingdom
Statistics

| | | |
| --- | --- | --- |
| | # 381 | THE World University Rankings 2013-2014 |
| | 6 | Undergraduate programs |
| | 4 | Postgraduate programs |
Overview
Statistics

| | |
| --- | --- |
| Institution type | Public |
| Year established | Data not available |
| Campus setting | Urban |
| Student population | Large (More than 10,000) |
| foreign students | Data not available |
| Nationalities | Data not available |
About University of Portsmouth
The University of Portsmouth was founded in 1869 as Portsmouth and Gosport School of Science and the Arts, it gained University status in 1992. It is a public university based in Portsmouth, Hampshire, England, with two main campuses: the University Quarter and Langstone Campus. It has been rated as the fifth best modern UK's university by The Times Good University Guide.
The University of Portsmouth is comprised into Portsmouth Business School, Faculty of Engineering & Technology, Faculty of Science, Faculty of Humanities and Social Sciences, and Faculty of Creative and Cultural Industries, offering a variety of undergraduate, postgraduate, postgraduate research, as well as part-time courses.
Admissions
Intakes
Admissions Statistics

| | |
| --- | --- |
| IELTS | Data not available |
| TOEFL | Data not available |
For admission requirements and intakes for each individual course/programme please refer to course details.
Tuition and application fees
Estimated tuition fees as reported by the institution.
Tuition and Application Statistics

| | |
| --- | --- |
| Application fee (local students) | Data not available |
| Application fee (foreign students) | Data not available |
| Student visa fee (foreign students) | Data not available |
Living cost
Data not available
Average living cost in United Kingdom
The amount is indicated taking into account the average cost of food, accommodation, etc in United Kingdom for 2023
Costs Statistics

| | |
| --- | --- |
| Food | Data not available |
| Accommodation | Data not available |
| Others | Data not available |
Accommodation
Halls of Residence
There's no better way to make friends and feel at home in the university community than by having a room in the halls of residence. Depending on your needs and your budget, you can choose whether you want an en suite bathroom, whether you'd like your meals to be provided (catered) or have your own kitchen (self-catered).
Private rented accommodation
We are able to offer University accommodation to 75 per cent of new students. 25 per cent of first-year students live in private shared houses, located within close distance of the University campus. This is also where the majority of students in other years live. There are two main types of accommodation choice in this area: private shared houses and flats and lodgings.
Our Student Housing department offer lots of house hunting support to help you find housemates and your first home in the private sector. There is a plentiful supply of good quality, affordable student accommodation across the city in close proximity to the university to cover most students needs and budgets!
Campus
The University of Portsmouth has two campuses, only 3 miles away from each other:
University Quarter
The University Quarter is situated in the centre of the city, served as the main campus of the university. The campus is well-equipped with modern teaching facilities and residence halls. The University Library features an extensive of collecting, and served with excellent computing facilities.
Langstone Campus
Langstone is situated in Milton on the eastern edge of Portsea Island. The campus houses the university's sports grounds. There are also a restaurant and bar, as well as a student village (residence halls).
Portsmouth is located on England's south coast, served by excellent air, rail, road, and sea connections to the rest of Britain and Europe. The Portsmouth and Southsea Station is only within walking distance from the university. There is also a minibus service travelling between the main campus and the Langstone Campus.
Student population
Large (More than 10,000)
Total population
Student Statistics

| | |
| --- | --- |
| Undergraduate students | Data not available |
| Postgraduate students | Data not available |
| foreign students | Data not available |