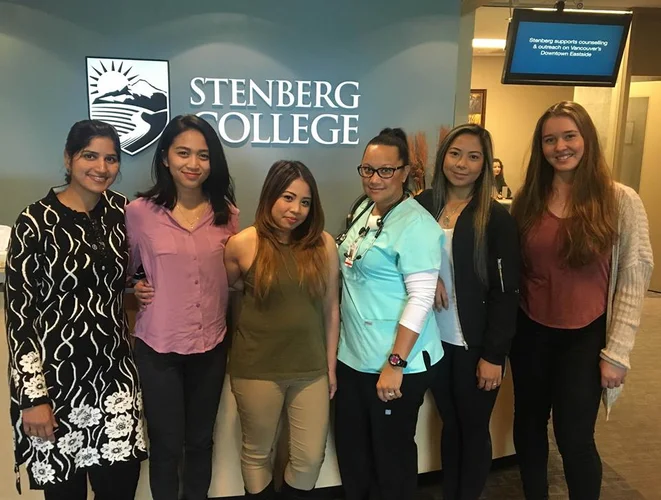 Stenberg College
Surrey, British Columbia, Canada
Statistics

| | | |
| --- | --- | --- |
| | 8 | Undergraduate programs |
| | 0 | Postgraduate programs |
Overview
Statistics

| | |
| --- | --- |
| Institution type | Private |
| Year established | Data not available |
| Campus setting | Urban |
| Student population | Small (1,000 or less) |
| foreign students | Data not available |
| Nationalities | Data not available |
About Stenberg College
Stenberg College always has your future career in mind. You will find new opportunities through practical, job-focused teaching, delivered by experienced instructors.
When you complete your studies, you will be well-equipped to pursue a fulfilling career in your chosen field.
Pursue your career in business, health care, human services or education.
Small, community atmosphere
Caring teachers and small class sizes ensure one-to-one support
Optional extra certifications available every day to further build your skills
After gaining your Diploma or Certificate you can apply for an Advanced Diploma or Bachelor degree at a partner post-secondary institution. This is the start of your journey to permanent residency.
Admissions
Intakes
Admissions Statistics

| | |
| --- | --- |
| IELTS | Data not available |
| TOEFL | Data not available |
For admission requirements and intakes for each individual course/programme please refer to course details.
Tuition and application fees
Estimated tuition fees as reported by the institution.
Tuition and Application Statistics

| | |
| --- | --- |
| Application fee (local students) | Data not available |
| Application fee (foreign students) | Data not available |
| Student visa fee (foreign students) | Data not available |
Living cost
Data not available
Average living cost in Canada
The amount is indicated taking into account the average cost of food, accommodation, etc in Canada for 2023
Costs Statistics

| | |
| --- | --- |
| Food | Data not available |
| Accommodation | Data not available |
| Others | Data not available |
Accommodation
Stenberg College does not provide housing but student do have reasonable housing in the surrounding area. There are two options:
Homestay
Live with a host family to build on your English language skills and have a ready-made home here British Columbia. This is an affordable alternative to renting where you'll have your own room but shared spaces where you can bond with a Canadian family.
Private rental
If you would prefer your own apartment you can arrange to rent in the city. The average rent for a 1 bedroom apartment in the City Centre is $1250 CAD per month (as of January 2019). The cost of living in Surrey is 21% lower than in central Vancouver so this cost will vary depending on the neighborhood.
Campus
If you want to go out with your new friends from Stenberg, there is a lot to do in Surrey, a thriving modern city. As well as a great arts and food scene, it has galleries and museums, grand parks, and the stunning Crescent Beach.
You can also take a trip to nearby Vancouver to explore its beautiful scenery and fantastic attractions, including Stanley Park and Granville Island.
You can take part in monthly on-campus social activities, or join the Student Council to have input on the services offered. There are also volunteering opportunities you can get involved in to build your experience and make a difference.
Student population
Small (1,000 or less)
Total population
Student Statistics

| | |
| --- | --- |
| Undergraduate students | Data not available |
| Postgraduate students | Data not available |
| foreign students | Data not available |